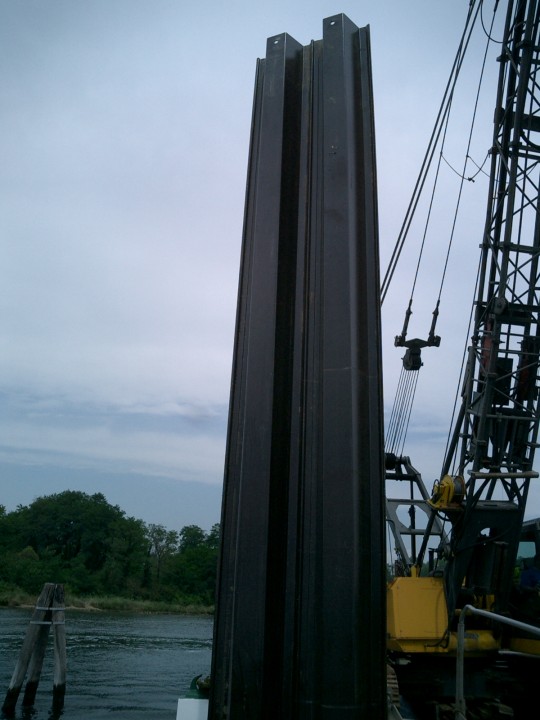 Sheet Piles
Sheet piles are important elements of a building. They are narrow and long beams that are sunken into the ground and function as a supporting wall, water containment or for unstable soil. Their use is widespread and, in recent years, composite material sheet piles are replacing those made of steel.
Description and characteristics of resin glass sheet piles
Resin glass sheet piles thanks to their structural features, lightness, load capacity and water resistance are considered a natural evolution of traditional steel sheet piles. The success of the sheet piles made through the pultrusion of composite materials is almost universal and can be considered a new standard in building or other projects.
Saimex s.r.l. is aware of all the advantages that the sheet piles in composite materials can offer. To build data that attests to the efficiency of its performances accessible to all sector professionals, it has carried out an important study in collaboration with IUAV University of Venice. This shows all the performance qualities of fiberglass pultruded sheet piles, after testing.
One of the advantages that our research adequately highlighted is a lower weight of fiberglass sheet piles compared to steel: they have a sealing capacity comparable to steel up to 12 metres deep, but they weigh five times less. From this data derives the observation that the use of pultruded sheet piles contributes to a reduction in construction site transport and handling costs.
Composite materials with fibreglass or carbon fibre are anti-corrosion and anti-rust: pultruded sheet piles can be used without suffering marine or non-marine water damage or contact with aggressive liquids. They are reusable, elastic, can be worked directly on-site and can be made in different shades to better adapt to different environmental contexts.
Sheet piles' applications 
Pultruded sheet piles are particularly used in the building andinfrastructure sectors. These are business areas where it could be necessary to have supporting walls to contain soil or water, such as the construction of riverbanks. Fiberglass sheet piles produced by Saimex s.r.l. were part of Venice's MOSE system, aimed at the protection of the city and its high-water lagoon. This choice was dictated by the fact that our products, made with innovative materials, guarantee long durability in contact with water.
Choosing Saimex s.r.l. sheet piles 
Saimex s.r.l. is active on the market and has assumed a role of innovator in the sheet pile market.
To meet all the requested needs, we have developed two different sheet pile models:
Heavy Duty sheet piles: designed for heavy loads, which can be sunk at depths of more than 12 metres. It has the same features of steel sheet piles which it can replace.
Light duty sheet piles: which can be sunk up to six meters, replaces the wood and PVC sheet piles and can be used to create aesthetic barriers.
Contact us
to learn more about our products and to find out our offer details.
Request information